What Fabric Are Wedding Dresses Made Of?
24 August 2023 | Admin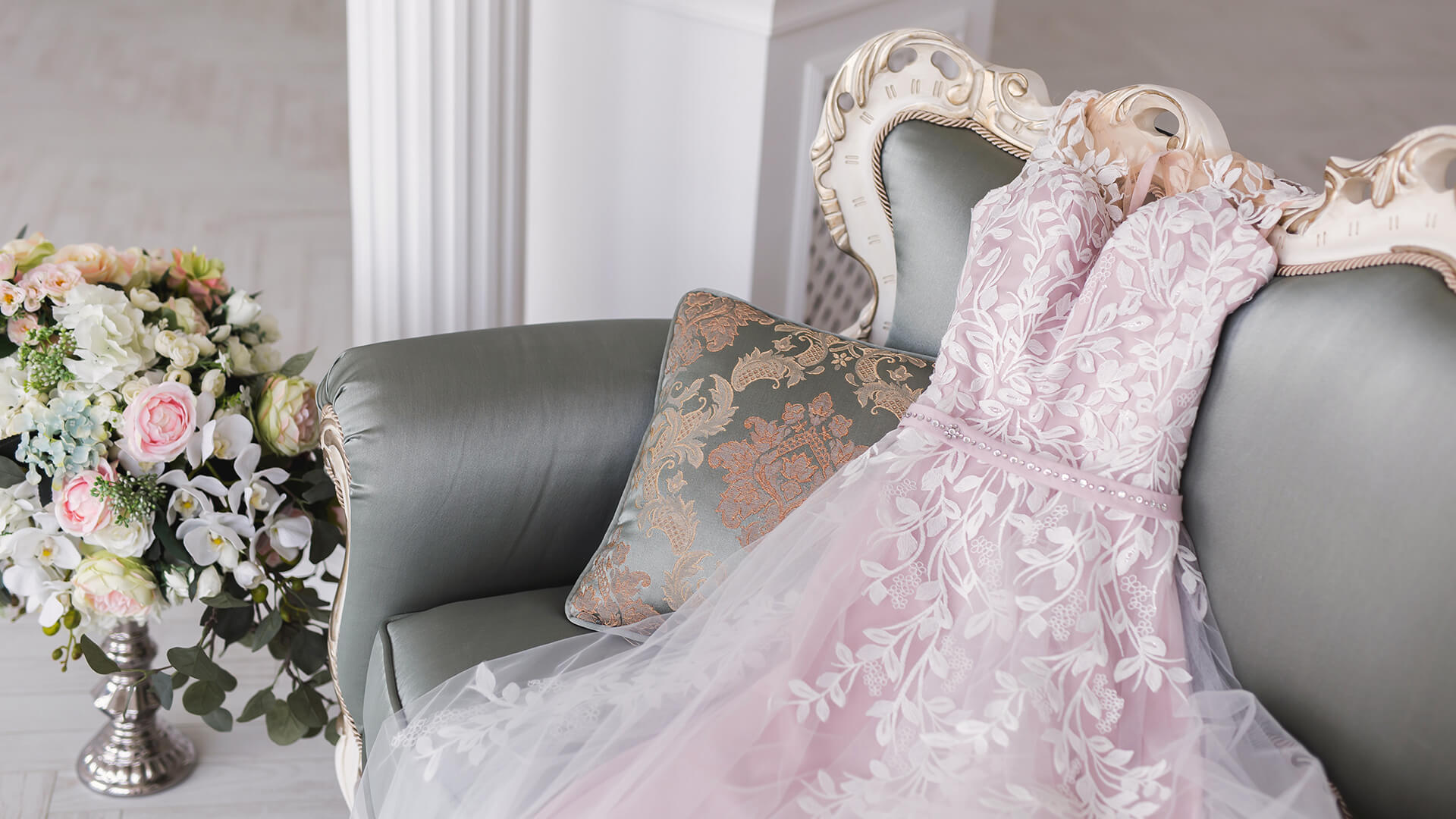 Wedding dresses can be crafted from various fabrics, each bringing its unique drape, feel, and sheen to the final design. Here's a detailed look at the most common fabrics used in wedding gowns:
Satin: This is not exactly a fabric type, but rather a finish. Satin can be made from silk, polyester, or acetate and is known for its smooth, glossy surface. It's a versatile fabric that drapes well for structured and draped gowns.
Silk: Revered for its luxurious feel and natural sheen, silk is a high-end choice for wedding dresses. Types of silk include:
Dupioni: Known for its slightly uneven texture and soft sheen.
Charmeuse: A lightweight silk with a glossy front and matte back. It drapes beautifully but is also quite delicate.
Shantung: Similar to dupioni but with a smoother finish and less sheen.
Tulle: This net-like fabric is often used for ball gown skirts and veils. It's lightweight, and when layered, it creates a fairytale look. You might be familiar with it from ballet tutus.
Organza: A sheer, lightweight fabric that is stiffer than tulle. It's often layered or used for skirts, sleeves, and overlays. Silk organza is pricier and has a natural sheen, while synthetic versions are less expensive and slightly matte.
Chiffon: A soft, sheer fabric with a slight sheen. It's often layered or used for skirts and sleeves because it drapes gracefully. Due to its delicate nature, Chiffon can snag and pull easily.
Lace: Often used as an overlay or detail, lace adds romantic, intricate detailing to wedding gowns. Types of lace include:
Alençon: Known for its delicate pattern and heavy texture with a corded outline.
Chantilly: Delicate and detailed with a fine net background.
Venise: A heavier, more textured lace with patterns that stand out.
Guipure: Made of interconnected motifs rather than a net or mesh background.
Crepe: This fabric has a crinkled or pebbled texture, often made from silk or synthetic fibres. It's best suited for gowns that are draped or have a bias cut.
Georgette: Similar to chiffon but slightly more opaque and less shiny. It drapes beautifully and is often used for flowing skirts.
Mikado: A type of blended fabric, usually silk and polyester, that is weighty and offers a luminous sheen. It's great for structured dresses due to its heavier weight.
Jersey: A stretchy knit fabric, it's perfect for form-fitting dresses. Its softness and stretch provide comfort, making it ideal for beach or casual weddings.
When choosing a wedding dress, it's essential to consider how each fabric might feel against the skin, its weight, and how it drapes. The choice of fabric can significantly influence the overall look and feel of the dress, so it's always a good idea to familiarise oneself with these options, especially if having a dress custom-made.
If you need any help choosing wedding dress fabric, please don't hesitate to contact White Lodge Fabric.